this last saturday we went up to Wolf Creek for opening day, and i had another opportunity to write an article for YoBeat magazine. it was a really fun day, made even better by the photos and the article and hearing from everyone how cool they thought it was.

as with every article some things were cut out and some photos were dropped.

here is the article

http://www.yobeat.com/2009/11/wolf-creek-and-a-legit-opening-day/

and now here are all the photos that weren't good enough to make the final cut.
You don't have a water fall in your cabin

more like a house

mmmm tv
myself, cassidy barry, eric frazier. check them whips!!
Ran into Annie Henderson looking fashionable as always
scouting lines

no lines here, this isn't mammoth
oh no i'm blinded by the kids who match too much
cassidy barry and eric frazier
cassidy barry likes to lay 'em out
matt didn't land this method but it still looks good, now just tweak it like j.lynn
that's no halloween costume
chuck and t-rex

trent and girl getting tanned
this started out as a good idea
this kid looked dumb before he tried to hit this wallride
michael frazier
and george jackson
i fell over trying to get a sick angle
tony front boarding his way into 3rd place
best lazy frontboard i've ever seen, matt

matt method, with woody and trav on hype duty
judge charlie hoch
charlie hoch is the resident snowboard expert at wolf creek
charlie watching eric rody about to get 1st
spectators bryan masse, george knowles, and cassidy barry
the peanut gallery

derek plant

d-rock

who'd of ever thought that kid would rock airblaster?

some kid wanted it bad, but he didn't get it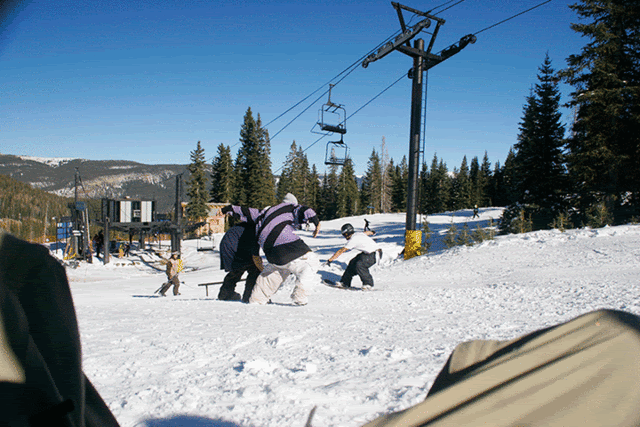 john 5-0 back 180 with hyppers on lock
woody got all his picks dropped from the article, cause yobeat is snowboard only. better luck next year kiddo.
after it was all said and done, i got my one footers on
john won a t-shirt for his efforts